Note: This is an online course. Students do not have to move to Austin to take it. All our courses are now available online!
About the Instructor
Tony Chimento was born and raised in Texas, here in the United States. He has a Bachelor's degree in Theology from Evangelical Theological Seminary and a Master's degree in Counseling from Master's International School of Divinity. He is currently working on his Doctorate in Biblical Leadership. Tony has served in several churches from 100 members to 2500 members as a youth pastor, singles pastor, executive pastor, and senior pastor. One of his passions is to mentor and coach young leaders as they blaze a trail in God's service.
This course has been developed by the Department of Biblical Studies at Austin Bible Institute.
About the Course
BIBL 101 Hermeneutics, 3 credits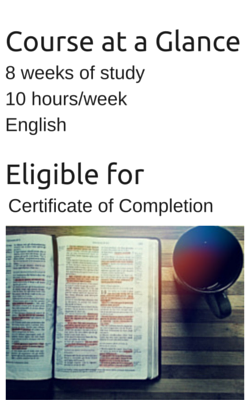 In John 15:14, Jesus said " If you love me, keep my commands." We all know that and have no problem with wanting to obey that command, but so many Christians simply don't know how to read God's word and find the truths and instructions Jesus is trying to teach us. Further, so many lack the training to view Scripture in context.
This course will help students understand various methods for reading and understanding the Bible. Students will be taught several ways to take a written article or book and get as much out of the text as possible. Throughout the course, students will have hands on experience with dealing with context, history, authorship, and other aspects of the text.
While the entire course will deal with Scriptural application, the lessons learned will help each student with any piece of literature. In addition to working alone on texts, the student will have an opportunity to interact with students in our online forums as well as receive feedback from the instructors.
Course Delivery
This course is delivered online. Students don't have to move to Austin to take it. Austin Bible Institute now offers all its courses online so that students everywhere in the world can take them.
Recommended Background
No particular background is required. All are welcome.
Why? Jesus had no requirements for inviting his disciples (Matt. 4:18-22; Mark 10:17-21) to come and learn from him. This course invites people to come and learn.
Fees for the Course
This course is a 3 credit hour course and the fees follow the normal Austin Bible Institute's part-time fee schedule which can be found on our tuition and fees page.
Course Format
This online course is divided into eight (8) modules, over eight (8) weeks. Modules typically consist of videos, PowerPoint lectures, articles, and assignments that support the material covered in the week.
Assessment
The assessment for this course will comprise of application assignments, forum posts, and book study papers.
Start Dates
What Students are Saying
Austin Bible students are saying many great things about our courses, read here.