Austin Bible Institute (ABI) offers some of the lowest tuition rates of any institution of its caliber in the United States. Our goal is to make education affordable to students and families at all income levels.  As such, we have a need-blind admission policy. That means we admit students without regard to their ability to pay and then work with them to help them be able to afford their education without going into debt. We are able to do this because of the shared sacrifice and generosity of our faculty, donors, and students.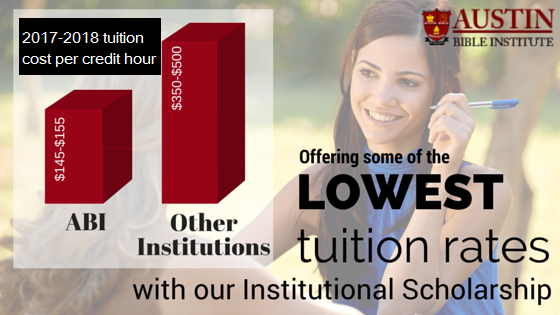 While many colleges and universities across the U.S. are increasing their tuition every semester, ABI recently enacted an almost 50% reduction in tuition! We've done this by applying a very generous guaranteed Institutional Scholarship to every single student attending ABI.  That means the tuition rate that students actually pay is lower by almost 50% from the real value of the excellent training they are getting. The average tuition rate for U.S. colleges is about $350 to $500 per credit hour. After applying our Institutional Scholarship, that is guaranteed for every student, our students get to pay the following low tuition rates:
Institutional Scholarship Tuition Rates

All of our students are awarded the Institutional Scholarship and only pay the following low tuition rates!
Full-time tuition: $145 per credit hour.
Part-time tuition: $155 per credit hour.
*For Graduate Level courses, tuition is an additional $10 per credit hour.
Definitions
Full-time: Applies to taking 12 to 15 credit hours per semester.
Part-time: Applies to taking less than 12 credit hours per semester.
Most of our courses are 3 credit hours (although some are more). The number of credit hours is listed on our course description page and with each semester's course offerings. For example, if you were to take two courses (part-time) that each are 3 credit hours your tuition would be $155 x 3 credits = $465 for one course
We believe that Jesus would want any student who truly desires to study his word to do so whether they had enough money to pay for it or not–as long as they are willing to sacrifice their very best. We expect every student to make sacrifices and contribute to their education at Austin Bible Institute, but if their greatest sacrifice is still not financially adequate to cover their tuition costs, we work with students to make it possible for them to attend. As such, Austin Bible Institute is an institution that students from any background or financial status can afford.
Other Austin Bible Institute Fees
Early Application/re-application fee: $35 (non-refundable)
Application Fee: $45
Registration: $250 (non-refundable and not deducted from tuition)
Early Registration Fee: $199 (applies only if a student pays non-refundable registration fee within 5 business days of being offered admission)
Late Tuition Fee: $125
Partial Payment Plan Participation: $25 per semester
Enrollment Adjustment Fee: $30
Technology Fee: $55 per semester
Portfolio Assessment Fee: $100
Graduation or Course Certificate Fee: $85
Unofficial Transcript: $5
Official Transcript: $7
Returned Check Fee: $25 processing fee will be charged for check return by the bank for insufficient funds. When a check is returned, ABI will require all subsequent payments by cash, money order, or certified check.
Refund for International Students: $25+ (depends on fees charged by Western Union or Money Gram to send refunds)
Test-Out Fee: $85 per credit hour
Audit Fee: $100 per credit hour*
*Students must receive administrative permission to audit a course and are only allowed to audit up to 2 courses in our programs.