Institutional Scholarship Information
Austin Bible Institute (ABI) offers some of the lowest tuition rates of any institution of its caliber in the United States. Our goal is to make education affordable to students and families at all income levels.  As such, we have a need-blind admission policy. That means we admit students without regard to their ability to pay and then work with them to help them be able to afford their education without going into debt.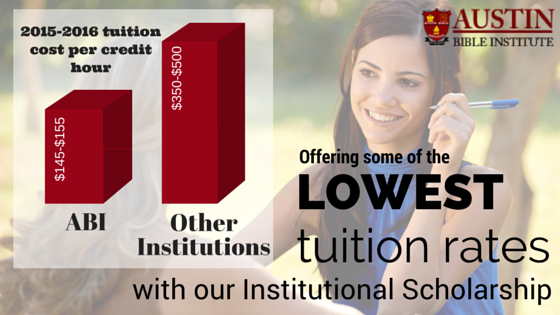 We Care
If you have been watching colleges and universities across the U.S., you might have noticed that tuition and fees continue to increase each year to keep up with the rising costs of education. At ABI, we realize that this necessary increase makes it difficult for students to achieve their goals of obtaining a college education. As such, ABI has worked hard to put into place an Institution Scholarship that guarantees 50% reduced tuition to all students attending our college. That means the tuition rate that students actually pay is reduced by 50% from the real value of the excellent training they are getting.
What This Means for You
All of our students are beneficiaries of our Institutional Scholarship! ABI offers this scholarship to students for the duration of their enrollment and is dispersed each semester until they have finished their program. Scholarship awards will be made every semester prior to tuition and fees invoices. Students will be required to accept the Institutional Scholarship every semester and confirm by submitting a thank you letter to the Advisory Board.
The true value of one credit hour at ABI is $310, but because of this scholarship you now get to pay $145 (full time) or $155 (part time) per credit hour.
Writing a Thank You Letter
Students are awarded a scholarship because ABI cares about their calling to future ministry. Sending a thank you letter to our Advisory Board shows that students see the importance of taking the time to present their gratitude in a professional manner. 
In order to officially confirm this scholarship, you must submit a thank you letter addressed to the Austin Bible Institute Advisory Board. This short letter of gratitude does not need to be more than 500 words long, but should be free of grammatical errors and express your appreciation. Letters can be sent in through:
Email: admissions @austinbibleinstitute.com
Mail: P.O. Box 200700 Austin, TX 78720
Tips for Letter Writing
Write clearly and concisely.
Double-check for typos and grammatical errors.
Express enthusiasm.
Be sincere.
Typed, business format.
Sample Thank You Letter
[Date]
[Austin Bible Institute Advisory Board ]
[Name of Scholarship]
[Address]
[City, State, Zip]
Dear [Austin Bible Institute Advisory Board],
First paragraph:   State the purpose of your letter.
I am writing to thank you for your generous  [Name of scholarship]. I was very happy and appreciative to learn that I was selected as the recipient of your scholarship.
Second paragraph:  Share a little about yourself and indicate why the scholarship is important.
I am a Christian Ministry major with an emphasis in Biblical Studies. I plan to pursue a career as a pastor upon graduating from Austin Bible Institute. I am currently a junior carrying and plan to graduate in the fall of 2016. After graduation, I hope to plant my own church to reach out to the lost in my community of Atlanta, Georgia. Thanks to you, I am one step closer to that goal.
Third paragraph:  Close by thanking the person again and make a commitment to do well with the "donor's investment."
By awarding me the [Name of scholarship], you have lightened my financial burden which allows me to focus more on the most important aspect of school, learning. Your generosity has inspired me to help others and give back to the community.  I hope one day I will be able to help students achieve their goal s just as you have helped me.
Sincerely,
[Sign your name here]
[Type your name]
[Your address]
[City, State, Zip]